GT6 type pneumatic vibrator
FEATURES
Noise level never exceeds 75 dba.
Bearings come pregreased, no lubrication is required.
Bearings are oversized to dramatically increase vibrators' life.
Can be used at temperatures of up to 230 F (280 F for the GT4 & GT6) GT "S" models use unbalance weights of heavy metal (instead of the standard brass) that produces a slower frequency and a higher amplitude.
GT Series Pneumatic Turbine Vibrators are ideal for applications in the food and
pharmaceutical industries, and others involving fine, dry powders that respond well to high frequency vibration. They require no lubrication, and produce less noise than
other types of rotary pneumatic vibrators.
Standard features & benefits
Lightweight Alloy Body, powder coated to resist corrosion
Matched & shielded ball bearings pre-lubricated with long life grease
Low noise output
Low air consumption
Adjustable force and frequency
Exhaust muffler included
A few commonapplications Include:
Food Ingredient bins
PharmaceuticalIngredient bins
Weigh hoppers
Light duty vibrating tables & platforms
Small feeders
Transfer pipes
Chutes
GT DESIGN
The vibration is produced by the centrifugal force of the positive and negative unbalanced moments in the rotor.
The rotor is supported on two heavy duty, prelubricated, matched shielded ball bearings.
A special long life grease ensures a long working life.
The inner and outer raceways of the bearings are designed so that the bearings can be easily replaced using only a pin-wrench.
The endplates are fitted with right- and left-hand threads and are self-locking.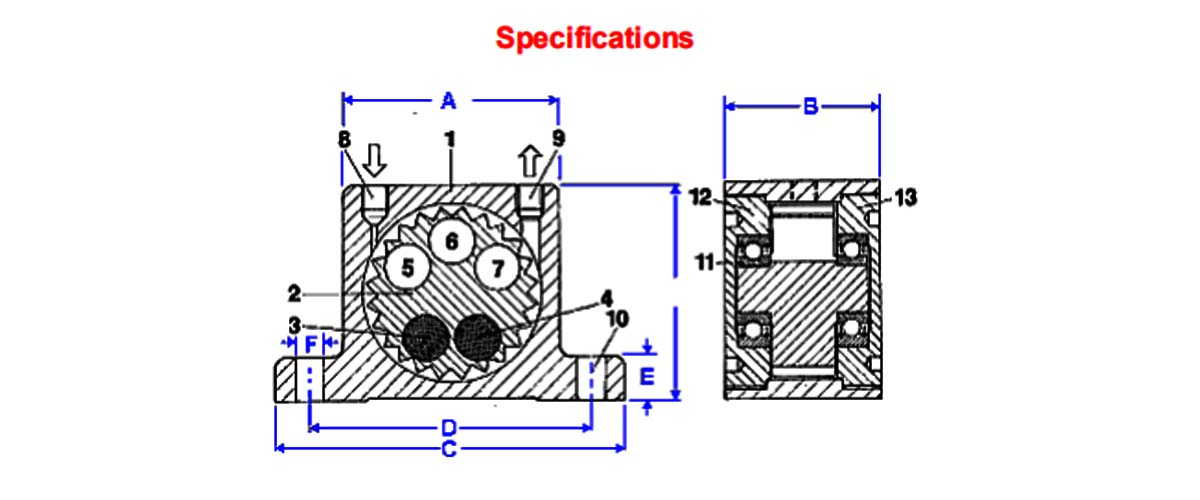 Construction:
1 - Extruded aluminum alloy body
2 - Aluminum turbine wheel, hard coated
3-4 - High density mass for positive moment
5-7 - Cavities for negative moment
8 - Air inlet (BSP thread, will accept NPT)
9- Air exhaust (BSP thread, will accept NPT)
10- Base mounting holes
11- Special pre-lubricated shielded bearings
12- Hard coated aluminum end plate with left-handed thread
13- Hard coated aluminum end plate with right-handed thread
GT PERFORMANCE